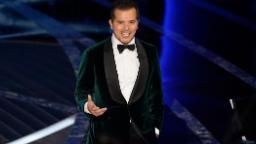 Most notably, the prolific John Leguizamo, who recently voiced Bruno in Disney's "Encanto," blasted Franco's
casting on Instagram
. Leguizamo argued that the role should have gone to a Latino actor instead.
"How is this still going on?" Leguizamo asked on Friday. "How is Hollywood excluding us but stealing our narratives as well? No more appropriation Hollywood and streamers! Boycott! This F'd up! Plus seriously difficult story to tell without aggrandizement, which would (be) wrong! I don't got a (problem) with Franco but he ain't Latino!"
Franco is set to star as Castro in the upcoming "Alina of Cuba," with production set to start later this year, per
reports
. The movie follows the life of Alina Fernandez, Castro's daughter.
Leguizamo isn't the only Latino star angered by the casting.
"Wtf is this…." wrote actress Jess Darrow, who voiced Luisa Madrigal in "Encanto," in response to Leguizamo's post.
"I'm sorry but what in the actual f**k?" wrote actor Raúl Castillo in an Instagram story.