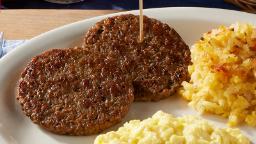 At least that's my memory of it.
Here's the deal: Cracker Barrel added Impossible sausage to its menus. Perhaps because they realized (20 years too late, in my case) that they weren't really providing for the growing number of vegetarians and vegans in America who, like, occasionally are also hungry.
But of the more ravenous carnivores out there didn't like the addition of "fake" meat, and they didn't hold back in their Facebook comments replying to Cracker Barrel's post announcing the update. A sampling:
"I just lost respect for a once great Tennessee company."
"Stop with the plant based 'meat' crap."
"Bad choice."
To be clear, Cracker Barrel isn't replacing its meat sausages with veggie alternatives. It's not mandatory or anything, as hundreds of other commenters noted in their retorts…
"It's amazing the snowflakes here getting triggered by a meat alternative showing up on a menu. Y'all can still order regular meat, you know that right?"
Cracker Barrel, naturally, stayed neutral, replying that, "The menu is always changing, but our love for our customers never will."
BOTTOM LINE: It's a silly story, of course. No one's really going to boycott the restaurant over this. But it's a fun/slightly horrifying glimpse at the way social media both magnifies and deepens cultural divisions on issues as minor as what someone chooses to eat for breakfast.
At the end of the day, Cracker Barrel's move is a shrewd business decision.
The global plant-based meat market is expected to be valued at around $25 billion by 2030 — there's clearly demand for it. And Cracker Barrel isn't exactly breaking new ground here: Burger King has the Impossible Whopper; McDonald's is working on its own version with Beyond Meat; even meat purveyor Tyson has its own chicken-less chicken products.
And what red-blooded American would have beef with a restaurant making such a purely capitalist decision?
— CNN Business' Danielle Wiener-Bronner contributed to this analysis