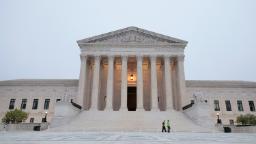 CNN
 — 

The marshal of the Supreme Court is asking Maryland officials to direct law enforcement to enforce the state's laws prohibiting picketing outside the homes of Supreme Court justices, according to letters sent to Republican Gov. Larry Hogan and Democrat Marc Elrich, the county executive of Montgomery County.
"You recently stated that you were 'deeply concerned' that 'hundreds of demonstrators have recently chosen to picket Supreme Court Justices at their homes in…Maryland," the letter to Hogan by Col. Gail A Curley said. "Since then, protest activity at the Justices' homes, as well as threatening activity, has only increased."
The letters, dated Friday and released by a court spokesperson on Saturday to reporters, refer to protests that have taken place "for weeks on end."
Curley cites the arrest near Justice Brett Kavanaugh's Maryland home in early June of a man who was later charged by the Justice Department with attempting or threatening to kidnap or murder a US judge. The man had been armed, according to the FBI. Several Supreme Court justices live in Maryland.
Protests began in May when a draft majority opinion overturning the landmark 1973 Roe v. Wade decision was leaked and published by, and armed guards were sent to provide 24-hour protection at the justices' homes. When the high court ended Roe on June 24 – holding that there was no longer a federal constitutional right to an abortion – the protests continued.
According to Curley, "large groups of protesters" have "picketed" justices' homes in Maryland, "chanting slogans, using bullhorns, and banging drums."
"This is exactly the kind of conduct that the Maryland and Montgomery County laws prohibit," Curley wrote, calling on Hogan to direct the Maryland State Police and for Elrich to direct the Montgomery County Police to enforce the laws without delay.
The letters were sent as the court ended a blockbuster term.
Following the leak of the draft opinion in May, the Department of Homeland Security issued a memo warning law enforcement that there are potential threats to Supreme Court members and that the court's police have noticed a major uptick in social media threats of violence, with some prompting investigation.
Facing pressure from Republicans in Congress, Attorney General Merrick Garland said last month that the Justice Department was taking the threats against Supreme Court justices "extraordinarily seriously."
Garland said he met with the marshal of the Supreme Court, the FBI and others "to be sure that we were assessing all possible threats and providing all resources available."
The Justice Department had declined to comment at the time on calls to enforce a federal law that essentially bans protesting outside a judge's residence for the purpose of influencing them. The federal law is rarely enforced and broadly written.
President Joe Biden signed legislation last month to extend security protection for justices' immediate family members.
Following the arrest near Kavanaugh's house, Hogan said in a statement that there had been "heightened security" at the homes of justices since May.
"It is vital to our constitutional system that the justices be able to carry out their duties without fear of violence against them and their families," Hogan said. "We will continue to partner with both federal and local law enforcement officials to help ensure these residential areas are secure."
Maryland law prohibits a person from "intentionally assembl(ing) with another in a manner that disrupts a person's right to tranquility in the person's home."
Under a Montgomery county ordinance, an individual or group "must not picket in front of or adjacent to any private residence" but a group can be allowed to march in a residential area "without stopping at any particular private residence." Picketing is defined as "to post a person or persons at a particular place to convey a message."
In an m, Marcus Jones, the chief of police in Montgomery County, told CNN that there are "state and local laws that pertain to protests."
"They are allowed to be in the neighborhoods, but they must continuously walk, they cannot stand specifically in front of a neighborhood with signs and bull horns and yelling at the residents," Jones said about the rules for protesters. "They must not block sidewalks, and they must not block the streets."
"If they violate any of those … particular regulations, then we will arrest them," he added.
CNN has reached out to Hogan's and Elrich's offices for comment.
CORRECTION: A previous version of this story misspelled Montgomery County Executive Marc Elrich's first name.
This story has been updated.